Companies that hire third-party software engineers are usually looking to cut back on costs. But what about the quality or value delivered to users? There are risks in outsourcing software development leaders should be aware of. After all, building distributed teams for a task or project overseas is a special try. Here are the criteria you should run by your IT staff augmentation partner.
It is true leaders are constantly looking at a better return on investment (ROI) and that is in their DNA. So what do most CTOs and product leaders want when building their teams? They all seek to build highly innovative, high collaborative teams avoiding risks. But reliability, confidentiality, and security aren't the only relevant factors. Fiscal and legal compliance should also be taken seriously. 
This makes sense, right? Now, do you want to mitigate risks in outsourcing software development? Here are key points to keep in mind:
Quality of Service

: Are there service level agreements (SLAs) in place? Does the service provider go above and beyond?

Intellectual Property

: What steps does the contractor take on to protect your company's confidential information? Protection should include product strategy and personal identifiable information (PII). You can add clauses to include industry secrets, and user information too, of course.

Labor conditions

: Are the hired engineers legally bound to you through co-employment? Are they treated in the same manner as your internal employees? 
If you want to hire software engineers through third parties with IT staff augmentation or otherwise, this is for you. 
1 Risks in outsourcing software development regarding Quality of Service
Perhaps one of the most obvious risks in outsourcing software development. On evaluating service providers, look for companies that have established processes and procedures. This is the first step! Make sure they are scalable enough to accommodate any surges in demand.
To do so, make points to assess aspects beyond the resume of submitted candidates:
Are the teams dedicated, or do they switch between clients?

What ensures you get the best professional? Are they going to help you with pre-hire, onboarding, and retention initiatives?

How is the vetting process carried out?

Does it check for checking hard skills? What are the criteria for soft skills?

Do hires complement or compete with internal team members?

Are they willing to collaborate fully?

Hiring abroad? Then ask if the partner company takes care of the logistics to get the team together when needed. Is there concierge support and guidance on visa requirements?
What is infrastructure like?

Are there issues on connectivity that may impact operations? Who provides devices and support if they stop working?

Is there an available Customer Success Manager after the hire?

Or are support/consultancy hours charged extra?
If this makes sense to you, there are two legal instruments that are key to enforce your priorities and ensure higher success rates:
Service-level Agreements (SLA)

. Make sure you formally agree on prerequisites, nice-to-haves, timeframes, and budget constraints. Both parties are accountable for the success of any project. 

Master Service Agreement (MSA)

. It should contain clauses that set the scope of work, but also professional standards. You can also include some relating to what happens in case of breaches.
If you have any concerns about these topics, talk to Ubiminds' sales team. We'll gladly explain how we deliver white-glove solutions.
2 Is Intellectual Property at risk when opting for outsourcing abroad?
As knowledge-based businesses, software companies cannot afford IP-related risks when outsourcing software development. To address them, there are 3 things to look into:
Legal protection
There are some clauses you can include either in MSAs or specific non-disclosure agreements (NDAs). Insist on the contractor including references to:
Ownership of Deliverables

: title and interest. This includes all patent, copyright, trade secret, and other intellectual property rights. Even that of preparing and exploiting derivative works that should remain yours. Regardless of whose engineers do the development.

Confidentiality

: sensitive or proprietary information. Company, product, research, marketing, or business plans must remain secret. Including after the partnership is over.

Protection of User Information

: the contractor cannot provide, sell, distribute, or otherwise grant access to user information to any third party. Unless you grant consent with express permission.

Security Breaches

: the service provider assumes all actions necessary or recommended to remediate, mitigate, and respond. These include violation of confidentiality, privacy, or security. Be it relating to users, product, or company information.
Additionally, it is relevant to inquire about which data protection acts and legislation are in place to protect your company. Foreign providers sometimes abide by different legislation. Fun fact: do you know the strictest out there?
Europe's General Data Protection Regulation (GDPR)
Brazil's General Law of Data Protection (LGPD.
You can check the comparison of both legislations here. Or, check our blog for more info on Brazil's specific take on data security.
Logical security
When dealing with distributed teams (or hiring remote engineers through contractors), it is important to be sure their infrastructure won't compromise your data. Sammi Caramela gave great tips on creating a secure home office. You can also require this from service providers:
Secured internet only,

best if not shared with others.

Use of company computers

equipped with up-to-date cybersecurity software.

Encrypted messaging

and data transfers.

Multi-Factor authentication

. Equipment provided to Ubiminders need biometric access validation, for example.
Infrastructure cannot be a source of risks in outsourcing software development! However, extra training and strong policies are also relevant to avoid misuse or human error. 
Physical security
Companies that hire software engineers can also request their outsourced engineers to work colocated. To have them work at the contractor's facilities, even if it means hiring office space. The use of technologies for limiting access to software development environments can be a plus.
Ubiminds' headquarters in Florianopolis, for example, has triple access validation: concierge, RFID (Radio Frequency identification), and keys. Only identified personnel can access the building, and only top staff can open the office.
3 Is compliance with Labor Laws at stake with IT staff augmentation?
When hiring through IT Staff Augmentation, your Legal team most certainly will ask regarding co-employment risks. You should look into service providers that take care of that for you.
Ubiminds spares you from dealing with the bureaucracy that comes with hiring someone. You'll get a great tech pro. We'll take care of all the admin details and paperwork, from contracts to equipment. 
Your MSA brings all accountability to us, and we handle that directly with the Ubiminders. With that, you mitigate risk and limit liability. Additionally, that means payroll no longer has to deal with confusing 1099s and W-2s.
Still, you will probably like to know:
Our software engineers are paid competitive salaries.

They all have paid time off (PTO), normally a 2-week vacation.

Ubiminders are also granted other benefits, all on us.
This is because we understand that this is key to attracting and retaining tech talent.
After all, there's only one question that sums all the above up: do you really know the legislation? The answer is probably "no". Actually, having a reliable business partner to provide you that knowledge can cost you less than you expect. Plus, it helps you save time and money.
That said, you should take a look at some numbers we rallied. Check out our calculator on hiring internally versus hiring through Ubiminds and understand how we can save you time and money.
Steer clear of the risks in outsourcing software development with Ubiminds
Software product organizations struggle to hire engineers. Today's market for high-skilled professionals is extremely competitive. Finding the right partner to help to scale high-performance teams is essential for leaders seeking to do more, with less.
We guide organizations in building and scaling distributed product development teams. Ubiminders are placed as full-time team members. They become acquainted with different management styles, methodologies, technologies, and diverse environments.
Not only does it add value, but also reduces risks faced by companies that hire software engineers. When you hire software engineers from Brazil through Ubiminds, more obvious benefits are clear from the start:
Facilitated access to new networks and communities. Meet world-class talent in relevant markets you are not yet acquainted with.
Additional resources. Grow sourcing, screening, and vetting capabilities with a dedicated squad of tech recruiters. Free of charge.
Continuous improvement benchmarks

of the process carried out by Ubiminds and the partner network.
But there is also protection from risk and liabilities. We take accountability for compliance, co-employment, and intellectual property. Ubiminds works with MSAs and SOWs that assure you that all of the service standards, proprietary rights, security, confidentiality, and other relevant warranties desired are met.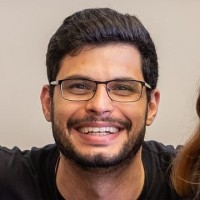 Guilherme Guimarães connects knowledge, data, and insights that culminate in innovative business planning and solutions. He currently serves as Head of Finance and Administration, overseeing strategic economic and financial management and contributing to tactical decision-making. Guilherme is also deeply involved in Legal and DPO-related matters, ensuring compliance and data protection.