Onboarding remote workers for your digital product team – be they your own employees, or third-party contractors – could be rather easy. Here's a quick step-by-step guide to getting you up and running in no time!
There are a few necessary steps to keep in mind, and some happen before the recruitment process even begins. Here is a brief list to reference with expanded insight below.
Have well-defined roles and attribution

s in place to get expectations for the position as well aligned as you can.

Standardize paperwork processing

so you don't forget anything and ensure that you cover all the necessary bureaucratic details.

Set welcoming routines

that encompass not just the technical ramp-up, but also team introduction and bonding practices.

Provide software access or any other clearances from day one

.  It seems silly and simple, but quite overlooked and avoids limitations and interruptions.
In fact, the secret to having a streamlined welcome to your new team members is applying continuous improvement practices. Onboard your first remote team member, learn, tune the process for the second hire, and so on. 
Three steps for onboarding remote workers successfully
Get acquainted with some routines we apply at Ubiminds for onboarding remote workers! 
Step 1: Organize standard paperwork for distributed teams
If you're hiring a full-time employee, paperwork is pretty standard. HR and/or Personnel departments have this down, but it is relevant that hiring managers at least have a notion of what is legally required. Some forms are:
State Tax Withholding form

Direct Deposit form

Confidentiality agreements
You may also like to check employee eligibility in the E-Verify system. 
If you're looking at third-party software contractors, you will find IT staff augmentation firms more reassuring than Toptal or Upwork, for instance. This is because reliable expert advice on how to mitigate risks and avoid liability is important to scale your software development operation. 
Especially when hiring abroad, you need to be sure of complying with local legislation and job market specificities – and that's when white-glove service is crucial. You need partners that will not only be accountable but can also advise and support decision-making.
A side note is in order. You should always choose a partner that can provide you proper Service Agreements (MSAs) to protect your business on issues like co-employment, confidentiality, and intellectual property. 
Insist on non-disclosure agreements that protect the industry, product, and user data. The MSA and Statements of Work (SOW) combo is a good call because they allow you to up or downscale your team according to demand.
Step 2: Have a checklist on which software access clearances you must provide your remote employees
Set up user logins and passwords before the start date. Have in mind these should include day-to-day tools regarding work, communication, and collaboration tools. And also HR systems such as timesheets, internal social networks, and anything else that is relevant.  
As mainstream as some of these apps and tools may be, be sure to have readily available training. To make it scalable and need-based only, have a list of useful knowledge base links or record a video/screen capture yourself. 
Step 3: Set welcoming routines that treat collocated and remote team members equally
If you are considering having at least one member of your digital product team working outside the office, consider it as if the whole team is distributed. 
This should include:
Logistics:

is there company swag and

equipment

you have to send over? When and how do you do it?

Infrastructure:

are those working from home having equal, productivity-enhancing work environment conditions? How do you assess and act upon it?

Must-know information:

beyond training sessions and conversations with the team, are there any manuals and guidelines the new hire should be presented during onboarding? 

Calendar:

what are team and company meetings and events this person should be invited to? Who makes sure it is done?

Teambuilding:

is the introduction to the team just formal during a meeting, or do you have a happy hour, gaming session, or other online social activity?
The importance of well-defined roles and attributions when onboarding remote employees
Do you work for an early-stage startup that still has no roadmap and faces challenges as they come? Or have roles become clearer and you're now focused on scalability? 
Regardless, you should be aware of how stakeholders interact. Siloed goals and efforts are the biggest threat to the Mindset and Culture of distributed teams. 
Although you should have provided a good overview of the role during the recruitment and hiring process, onboarding is the best time to tie it all together. Setting responsibilities and goals as soon as possible helps prioritize interactions and information. 
If your digital product team and company have already established playbooks and processes, it might be good to present them early on. But be aware that these guidelines should/will be critiqued. Be open to input from fresh eyes – you might discover relevant improvement opportunities.
Are you hiring and onboarding remote workers in an effective way?
Ubiminds is an IT staffing company that custom-curates digital product teams. 
There is something you should know about our work regimen: we're fully distributed, with clients in the US and Ubiminders working from all over Brazil and even Europe. 
Our high-touch approach to customer success and people management means we not only hunt the best professional but also make sure your team performs. To do that, we support you in setting up and fine-tuning distributed work best practices, from performance management to establishing career ladders. 
If you're interested in knowing our processes in detail, click here!
Rely on us to put in action best practices for hiring and onboarding remote workers in an effective way. Fill the form to reach out to us – we'll be happy to share our expertise!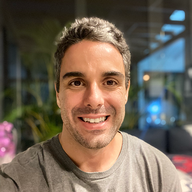 Paulo Ross, CEO at Ubiminds. Forever a software developer, entrepreneur, people-person, and devoted dad. Empowering teams to grow and deliver value.