Tech Talent Salary has never been so highly rated. Software Engineering grows 5 times faster (22%) than the national average in the US, according to Bureau of Labor and Statistics Projections. Six of the 10 largest STEM occupations in the US were related to computers. This includes:
Software developers and software quality assurance analysts and testers (1.5 million)

Computer user support specialists (634,820) and others
The annual wage salary for software and web developers, programmers, and testers in the US in 2020 was US$ 109,950. While:
Software quality assurance analysts annual salary can reach US$ 114,270

And

web developers and digital interface designer's wage is around $ 85,500.
If you consider fringe benefits such as paid holiday, vacation, sick days, medical, dental/vision insurance, and retirement savings plan the final compensation package for Software Development Talents can increase even more.
Given the high demand for software engineers, it's no surprise technology companies are willing to pay their entry-level employees well. Entry-level employees usually have less than one year of experience and are just starting in their careers.
That's why companies, especially big tech companies, feel encouraged to add on additional incentives to encourage the best talent to join their teams.
Considering the high costs to hire tech talents in the US and the Staff Augmentation needs of your company, it's more than urgent to look for alternatives. This means build Software and Product distributed teams with tech talents outside the US.
A good option is not so far from the US: Latin America for gathering world-class professionals for your tech talent pool within a similar time. There are over 133k UI, full-stack, mobile, enterprise, and game developers to pick from. Rates are also interesting, with salaries ranging from R$ 6k to 33k per month. The fact these professionals are available at a 1 to 3h time zone difference is just an added perk.
The largest country of Latam, Brazil, is a good option for hiring tech talents. The talent pool is harvesting some of the best software engineers and architects out there. The country is home to an amazing tech community. See below some data about Tech Talents in Brazil:
6.18 million fluent English speakers;

6th largest IT market;

1st in IT investments in Latin America;

46k IT graduates per year;

2.4k higher education institutions;

The largest population of Java developers in the world;

2nd for legacy systems and enterprise development (after the US) in mainframe developers;

4th position in top front-end developers;

One of the lowest attrition rates in the world.
Check out more details about Brazil Tech Talent Pool here.
How is the American software development salary made up, and what are the alternatives?
Considering the multiple skills team necessary for a Software Development Lifecycle, your company can spend from US$ 183,000 per year (only to hire a CTO, for example) to US$80.867 per year to hire a Quality Engineer in the US. Of course, this wage varies depending on the region of the country. See below the salaries of SDLC talents comparison between the US and Brazil (Glassdoor).
SDLC talents salary per year (US X Brazil)*
Role
Avg in US (NY*)
Min in the US (NY*)
Max in the US (NY*)
Avg in Brazil (Sao Paulo)
Min in Brazil (Sao Paulo)
Max in Brazil (Sao Paulo)

CTO

 

US$ 183,000

US$ 96,000

US$ 347,000 

US$55.093

US$14.516 

US$

108.870

Head of Product

US$189.488

US$ 116,000

US$ 309,000

US$

41.078

US$

21.774 

US$

70.161

Head of Engineering

US$196.342

US$ 135,000

US$ 285,000

US$ 53.391

US$ 21.774 

US$ 70.161l

Product Owner

US$111.489

US$ 76,000

US$ 163,000

US$

20.409

US$  12.096 

US$ 29.032 

Project Manager

US$94.149

US$ 61,000

US$ 145,000

R$29.032 

R$ 14.516

R$ 43.548

Business Analyst

US$79.821

US$ 57,000

US$ 112,000

US$ 14.240

US$ 7.258 

US$24.193

Technical Lead

US$104.829

US$ 74,000

US$ 148,000 

US$29.363 

US$14.516 

US$ 41.129

UX/UI Designer

US$94.587

US$ 63,000

US$ 141,000

US$10.875

US$4.838

R$19.354

Frontend Engineer

US$104.584 

US$ 69,000

US$ 159,000

US$18.875 

US$12.096

US$38.709

Backend Engineer

US$113.351

US$ 78,000

US$ 165,000

US$10.043 

US$14.516 

US$48.387 

Fullstack Engineer

US$104.656

US$ 70,000

US$ 156,000

US$19.487

US$19.354

US$19.354 

DevOps Engineer

US$108.556

US$ 79,000

US$ 149,000

US$22.081

US$ 12.096

US$ 33.870

Quality Engineer

US$80.867

US$ 59,000

US$ 111,000

US$8.750

US$12.096

US$33.870

Security Engineer

US$120.898

US$ 82,000

US$ 178,000

US$10.187

US$

14.516

US$ 43.548

Data Scientist

US$114.980

US$ 79,000

US$ 167,000

US$20.218 

US$12.096

US$ 36.290

Technical Support

US$51.756

US$ 31,000

US$ 85,000

US$6.268

US$4.838

US$33.870
*Source: Glassdoor. *dollar quotation= 1USD= R$ 4,96 (June, 29). See software positions wages in other regions here.
There is obviously no "free lunch". While the cost of Brazilian labor is highly attractive, labor laws can be a little more complicated.
Brazil has labor rights that are very different from the US. For instance, most labor rights are standardized nationally which means: the same law applies to workers throughout the territory, while In the U.S, the states have the autonomy to define which benefits are provided to workers and how big these benefits are.
Another thing is the bureaucracy for hiring someone in Brazil. While in the US, employment paperwork might include Form W-4, Form I-9 and E-Verify, State Withholding and Registrations, and an organization's employee handbook, Brazil has more than dozens of procedures to implement this process. 
According to TMF Group, on average it takes around 90 days of work to start a business in Brazil. Construction permits demand an average of 20 procedures and 404 days to finally get authorized. But, the good news is that there are solutions so you don't have to worry about any of this.
Brazilian contractor model: (full-time employee (FTE), Independent Contribuiter (IC) and Contractor
In Brazil, there are different contractor models: full-time employee (FTE), independent Contributor (IC), and Contractor.
In the full-time employee (FTE), named in Brazil as CLT, employees have a fixed-contract, in the Independent Contibuiter (IC), they're admitted by employers as a service provider. In the first option, labor laws are very specific and require the employer to guarantee rights such as 13 annual salaries, 30 days of paid annual leave.
While in Independent Contributor and Contractor, the employee is considered a Legal Entity and no requirements that are not in a service provision contract can be made, such as face-to-face work and compliance with a specific workload, unless these are essential needs for the purpose of the provision. See more here.
Background checks
Similar to the US, in Brazil employers usually check employee's backgrounds such as identity, education, and professional history. This can be done by your tech recruiter before making a job offer to the employee.
The employer may request proof of education (such as certificates). The request must be linked to the screening process for the position.
When seeking information relating to the candidate's employment history, it is important to confirm the information provided with the candidate during the interview, including confirmation that the employer may contact former employers and persons provided by the candidate as referees.
Worktime and PTO
In Brazil, working hours are regulated by the Brazilian Consolidated Labour Laws (Consolidação das Leis do Trabalho, or CLT) and the Brazilian Federal Constitution, which, among other constitutional rights, establish the maximum working hours per day and per week, as well as the right to payment for overtime.
Work hours are limited in Brazil to eight hours per day and 44 hours per week, except if otherwise established by the parties in an employment agreement or in an applicable collective bargaining agreement (but only for fewer hours per week).
Employees who work more than the legal limit on working hours, or more than the working hours defined in their employment agreements or in the applicable collective bargaining agreement, are entitled to be paid for the corresponding overtime hours worked. 
Additionally, they are entitled to an overtime premium of at least 50 percent (or 100 percent if the overtime work occurs during the employee's weekly time off or holidays). Overtime hours paid on a regular basis must also be taken into consideration when calculating labor and employment and social security charges, which increases overtime-related costs.
Compensation and benefits
Employees and executives engaged under an employment relationship in Brazil are entitled to the following statutory benefits:
Vacation (30 calendar days after 12 months of work);

Vacation bonus (one-third of the monthly salary);

Christmas bonus or 13th salary (one monthly salary per year);

Severance fund (FGTS) (8% of the monthly salary);
What are the risks of contracting without specialist support?
Hard to find Talent Pool: you'll probably have limited knowledge of tech talent pools and possible risks if you don't know Brazilian Market. So it'll be a good idea for saving time and increasing quality for your hiring process, to consider be supported by a specialist. Instead of working on top of traditional talent pools, Ubiminds maps out companies, educational organizations, communities, and other organizations where the right fit for your challenge can be found. No one is off the bench. That is why working in close proximity with hiring managers makes all the difference.
Coemployment: Co-employment can occur when two or more parties share the legal employer responsibilities of an employee. Ubiminds takes accountability for compliance, co-employment, and intellectual property, so working with MSAs and SOWs assures all of the service standards, proprietary rights, security, confidentiality, and other relevant warranties desired by the referred company are met it's possible to reduce mistakes at this stage.
Not knowing native negotiation culture: not knowing native negotiation culture means you can do a bad job offer and loses your talent at the last mile of the hiring process. So it's really important to be in the native context to know which arguments you should use during the negotiation compensation and benefits with the talent.
In order to mitigate risks in outsourcing software development, is highly recommended to business partners provide you with the knowledge that can cost you less than you expect.
How much is the contract of a Brazilian software engineer through Ubiminds?
Instead of being a traditional firm, Ubiminds solves issues by keeping payroll expenses and benefits as its responsibility, dedicating tech recruiters for the hiring process, and taking care of all the process: from paperwork and bureaucracy in Brazil contractors to travel visas and office space and equipment.

Your Master Service Agreements (MSA) and Statements of Work (SOW) ) bring all accountability to us, and we handle that directly with the Ubiminders. With that, you mitigate risk and limit liability. Additionally, that means payroll no longer has to deal with confusing 1099s and W-2s.
You can also rest assured they are paid competitive salaries, get paid time off (PTO), a 2-week vacation, and other benefits, all on us. We understand that this is key to attracting and retaining tech talent.
Staff Augmentation + ERO (Employer of Record) services: welcome to Ubiminds!
By building a Clear Strategy and Vision include Strong leadership, Diversity, Inclusion, and Collaborative Environment driven by overcommunication and holding a smart talent acquisition and onboarding to get the right people, Ubiminds saves you 40-50% on cost-per-hire and maintains average talent retention at almost 3 years.
Because of Ubiminds high-level method and considering the satisfaction of his clients, Clutch considers it a top company. The business-to-business (B2B) review platform revealed Ubiminds is one of the top HR firms on their platform. 
Find more about how Ubiminds builds the best Tech Distributed Teams in the US for you here.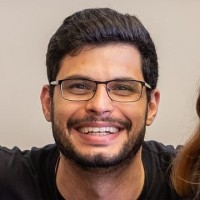 Guilherme Guimarães connects knowledge, data, and insights that culminate in innovative business planning and solutions. He currently serves as Head of Finance and Administration, overseeing strategic economic and financial management and contributing to tactical decision-making. Guilherme is also deeply involved in Legal and DPO-related matters, ensuring compliance and data protection.