There are plenty of hidden staffing costs in tech. Whether you choose to hire through your internal team, use an online platform, or hire a contractor, spending goes beyond hourly fees. We have shortlisted key associated expenditures you should factor in.
You have a budget to stick to, just like every other department in the company. But as someone who has had to hire one (or several) software developers, you know they are costly and in high demand. 
When the time comes to scale your digital product team, chances are you will act as most leaders:
First, you'll look at the product roadmap and figure out what kind of team you need to set up to get it done. 

Second, you'll evaluate your product team's skillset and decide between training current staff, or hiring someone new. It's a matter of

opportunity cost

. 

Third, you'll leverage your internal recruitment team, or begin your search for contractors, or both simultaneously.
Asking your peer group for referrals is a great way to filter out any bad vendors. You'll arrive at a shortlist of candidates and staffing firms or software houses fast. But how many of those take into consideration only the fees, but not the other associated costs regarding the new hires?
What are the hidden staffing costs in tech, exactly? 
There are different costs associated with the hiring process you choose, and they will impact your bottom line before and after the IT professional has been hired, onboarded, and placed within your development cycle.
Hidden Cost #1: Hiring someone for your internal digital product team
Whenever you hire a software developer or any other IT professional, there are costs. The obvious ones are salary and fringe benefits – which usually add at least 20% on top of the annual salary you have agreed on. 
Do you want to have this professional working in-house or co-located in your office? That means added expenses such as rent, facilities, and equipment. Offices also require concierge services and facility management to stay up and running.
Internal employees need HR support, and that has to be accounted for too. If they were previously living in another city, you will likely have to pay for relocation expenses if they are not working remotely. Have you taken these into consideration?
The truth is that finding and attracting talent takes up time, effort, and resources. But it doesn't have to. You can understand it better by downloading our calculator on the numbers of hiring internally versus hiring through a company like Ubiminds. Numbers don't lie!
Read on to understand other bad 'surprises' that might surge along the way.
Hidden Cost #2: Commissioning a Recruitment Firm or Staffing Agency
As for the hiring of IT professionals, what happens if you opt for outsourcing the recruiting? Well, you should know these companies work with two systems:
Contingency recruiting

is often the fastest way to fill roles that are easier to fill. You can pitch the position to several companies and they'll charge 20% to 40% of the candidate's annual salary as a fee.

Retained recruiting

is great for strategic roles with scarce candidates. You ensure exclusivity to the selected company and depend on its pace to fill the role. Rates go up to 50% of the annual salary in most cases. Sometimes a retainer may be included.
Budget-wise that means that on top of payroll expenses, there are various acquisition fees included as additional costs – on top of the above-mentioned fringe, office, and HR monthly expenses. 
There is no concern about retention, and you'll also have to pay extra in case of attrition. Another alert: backfills are charged separately in these cases. 
Hidden Cost #3: Opting for an external contractor, maybe offshore
There are tons of software houses and app development firms out there. Offshoring to Eastern Europe (Poland, Ukraine, Russia) or Southeast Asia (India) is common, but it could end up impairing both product development and budget.
Since these engineers are not in full synergy with your own product team, this often implicates:
Re-work

, having to fix or adapt dirty or non-conforming code;

Weird hours for team collaboration and leadership

, who put up with incompatible time zones to communicate;

Added management tier

, to enable collaboration and integration.
This delays the development cycle, possibly compromising efficiency, quality, and competitiveness. You may even end up hiring more engineers than you actually need, having to compensate for lack of seniority or skill.
How do they factor in when it's time to hire software developers?
When the time comes and you need to decide which way to go, ask yourself these questions:
What is the ROI for this position?

How will the hires impact their leader's workload?

How will the hires affect the existing team's workload?

Which option will allow me to make more quality hires, fast?

What are the budget implications of each choice? 
That is why it is important to consider hybrid staffing models.  It is quite possible to do this and stay within your budget constraints, with the right help.
How do I reduce staffing costs without downsizing: what are my company's options?
It really depends on your company's current context. Are you scaling? Have you been invested in it? Did COVID-19 hit you hard? Sometimes it is more reasonable to replace two mid-levels for a senior whose experience and productivity will more than make up for that shift. Or, you can keep your internal digital product team and opt-out of traditional contractors.
We recommend you combine two things: A) lower your staffing costs (not quality standards!) and B) expand your recruitment capabilities. 
A) Better pay scales to cut back costs and scale sustainably
When it comes to talent quality vs. quantity, digital product teams need to look to HR for inspiration. 
HR teams usually look at Salary Competitiveness Ratio (SCR) for developers and engineers. It is a comparison of how much you are willing to pay, in comparison to other companies in your field and/or region.
Now, sometimes that means you will have to settle for the second-best. But you really, really shouldn't have to! Doesn't it make more sense to hire stronger talent for the same or better work conditions than you're able to provide in the US? 
As a partner, Ubiminds broadens the talent pool of IT professionals for you which means that you'd be able to reach pay scales 40-50% lower than in the US, for a top-level engineer. 
Let's take as an example an engineer that costs on average USD 150k in New York, plus a fringe of about 20%. This US-based engineer will come out at USD 180k (minimally) if hired locally. The Brazilian equivalent will cost from USD 90 to 110k, which is almost half what you would pay in NYC. If you are able to achieve this, get great quality and potentially two for the price of one, then why not?
B) People Management Outsourcing 
It's all about finding software product experts at reasonable rates, fast. More importantly, raising performance standards while sticking to the budget too. 
In this sense, it's important to empower HR with specialist knowledge of tech teams building and freeing the team from operational legwork to focus on Human Capital Management (HCM) strategies instead.
By now you probably realize that some hidden staffing costs in tech are less tied to rates and more to do with people management. This is why looking for outside service providers is a smart way to impact both product and hiring budgets. 
Now, there are two moments you should look at talent acquisition and talent retention.
Hiring Process Outsourcing (HPO); 

HR Process Outsourcing (HRO). 
Ubiminds does both for the IT professionals hired through them.
Eliminate hidden staffing costs in tech by hiring with Ubiminds 
Ubiminds as HPO
At Ubiminds, we source, recruit, and hire qualified IT engineers for companies and help them structure distributed teams. Our community of almost 10,000 product designers, security engineers, quality analysts, software developers, and architects is ready to be tapped.
When we make available full-time Ubiminders for your team, they act as embedded members, and their activities are set by your product development leadership. We don't juggle projects or customers – each software engineer is hired specifically for the role they will be assigned to. And, one of the best things is that you should know we don't charge for recruiting or backfills. 
Ubiminds as HRO
Ubiminds provides office space in Brazil, infrastructure and equipment, payroll processing, health benefits, technical training if needed, and supports employee retention. 
We expand HR's capabilities and reach without adding costs – there are a fair bit of business processes included in our software development services. 
Our success-based pricing model is great for any client's bottom line. Clients look to us to provide top-notch team members who desire career opportunities, and not project-based short-term work.  Most engagements are at least one year and in some cases more than 3 years.  We work with annual agreements and there are no hidden fees. 
Are there risks of co-employment?
Ubiminds acts as a legal buffer between your company and Latin American professionals. We protect you from co-employment risks.
Intellectual property infringement liability: am I at risk?
We assign and convey all ownership to your company and don't allow third-party materials to be used. We are in compliance with GDPR, LGPD, and CCPA.
The work to be developed by Assigned Personnel does not connect to any environments controlled by Ubiminds
We can execute a Confidential Information, Invention, and Assignment Agreement: t

his tri-partisan contract enforces terms and conditions for collaboration between Ubiminds, Assigned Personnel, and your company.
Are you open to a new world of possibilities? Talk to one of our team members by filling out the form below and we'll get back to you asap.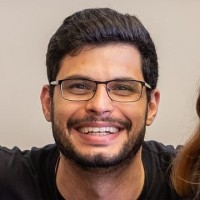 Guilherme Guimarães connects knowledge, data, and insights that culminate in innovative business planning and solutions. He currently serves as Head of Finance and Administration, overseeing strategic economic and financial management and contributing to tactical decision-making. Guilherme is also deeply involved in Legal and DPO-related matters, ensuring compliance and data protection.