The most important part of setting up a digital product team for distributed work is, undoubtedly, the team itself. Powerful distributed teams share special traits and strengths. They can be developed. But results are attained faster with talent acquisition. If your recruitment process's lens is well adjusted, you are sure to make strides.
Talent acquisition: right and wrong ways to scale your team
So are there right and wrong ways to drive talent acquisition? As CEO of an IT staff augmentation firm, I can answer a resounding "YES". When hiring Product Managers, UX/UI Designers, Software Engineers, or anything between:
If your attraction strategy is only money-based, prepare for a mercenary candidate base.

They'll take the offer of the highest bidder, and retention will be an issue further down the line.

If you go for skill-based acquisition strictly within local networks, you're limiting your options.

There are awesome people out there. Hire based on previous performance, not postcode. You might find more interesting payscales too.

If you have a rough succession plan and retention efforts in place, congratulations!

This gives you a comfortable time frame to work with. This means you can

recruit and hire looking at value delivery

, instead of putting out fires. Hire slow, fire fast.

If you want to meet your scalability forecast, partner with Marketing and HR for employer branding.

Increasing desirability and allure means an engaged talent pool. And employee satisfaction.
I've only addressed talent acquisition here, but long-term retention and growth are much, much broader. If you're interested in the topic, consider combining strategic HCM with people analytics.
Smart recruiting for distributed teams: a checklist
I've listed some of the proven tactics we use here at Ubiminds. They should empower your talent acquisition towards getting the right people for your digital product team.
#1 Employer branding efforts
Just like you need an elevator pitch for your product, you need one for your company. Taylor those towards your desired audience: talented software professionals. 
Try to summarize that in 1-3 sentences and let that be your Employee Value Proposition (EVP). Communicate (and practice) frequently and consistently. And make sure your product development culture is also made clear.
#2 Standardised tech recruitment practices
Make sure you're only bringing onboard people aligned with that EVP you've established. Then translate it into your day-to-day interactions with job applicants and candidates.
This means job briefings, competency mapping, interview plans, scripts, and testing must (a) make clear what you offer; and (b) make clear what you expect as non-negotiable.
A semi-structured approach to these processes is best. Mix fixed, EVP-aligned criteria with contextual ones. The latter based on the challenge ahead, the role, and the candidate per se.
#3 Expanded sourcing
The broader your search, the better your probability of having top-notch profiles to pick from. We like to combine online and offline strategies. Some pointers:
Target skill (not geography)

Look at the formal and informal experience

Combine inbound and outbound marketing strategies

Don't overestimate referrals if you're looking for diversity
Want a fun example? At Ubiminds, we discovered that people with an au pair background are usually a good match for us. Yes, they have above-average English communication. But most importantly, they tend to be resourceful and take on skillful actions to achieve their goals. So don't be too prejudiced on your search criteria.
#4 Online interviewing and testing
Yes, it's safer in a pandemic world. But it is also more efficient and convenient. Without a commute, recruiters are able to do more interviews. And it's much easier for candidates to include you on their calendars. Be sure to set up:
A good system for the

calendarization of interview windows

(

Calendly

is an excellent option). 

Take-home tests and live coding challenges

to evaluate how candidates perform in real-world scenarios.
You'll also probably need a supporting database of talent. If your company hires frequently, it might be relevant to hire an Applicant Tracking System (ATS) to set automated interactions in place, but there are always simpler options. A Trello board can be a good starting point, and some CRMs can also be viable alternatives.
Is your talent acquisition strategy helping you get the right people for your distributed team? 
Let's talk. Ubiminds is more than ready to support you in building or scaling digital product teams without the stress. Let us know what your challenges are and we'll be happy to come up with a tailored solution.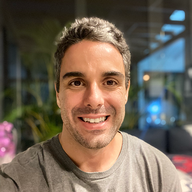 Paulo Ross, CEO at Ubiminds. Forever a software developer, entrepreneur, people-person, and devoted dad. Empowering teams to grow and deliver value.